Construction
Glass panel with transducers attached to the front surface of the glass.
Cable typically exits from the right side, terminating in a 2 x 6, 0.025 in (0.635 mm) square post receptacle.
Positional Accuracy
Standard deviation of error is not greater than 2.5 mm from target straight line and can be significantly less.
Touchpoint Density
More than 100,000 touchpoints/in² (15,500 touchpoints/cm²) for a 15-inch touchscreen when used with the 27xx series controller.
Touch Activation Force
Typically less than 3 ounces (85 grams).
Expected Life Performance
No known wear-out mechanism, as there are no layers, coatings, or moving parts. IntelliTouch technology has been operationally tested to more than 50 million touches in one location without failure, using a stylus similar to a finger.
Sealing
Unit can be sealed to protect against splashed liquids, dirt, and dust.
Surface Durability
Surface durability is that of glass, Mohs' hardness rating of 6.5.
---
Operating temperature: -20°C to 50°C
Storage temperature: -40°C to 71°C
Operating relative humidity: 90% RH at 40°C, noncondensing
Operating altitude: 10,000 feet
Storage/transport altitude: 50,000 feet
Chemical resistance: The active area of the touchscreen is resistant to all chemicals that do not affect glass, such as:

Acetone
Toluene
Methyl ethyl ketone
Isopropyl alcohol
Methyl alcohol
Ethyl acetate
Ammonia-based glass cleaners
Gasoline
Kerosene
Vinegar
---
Meets Level 4 (15 kV air/8 kV contact discharges).
per EN 61 000-4-2, 1995
---
Light Transmission
Visual Resolution
All measurements made using USAF 1951 Resolution Chart, under 30X magnification, with test unit located approximately 1.5 in (38 mm) from surface of resolution chart. Clear surface: Excellent, with no noticeable degradation. Antiglare surface: 6:1 minimum.
Gloss
Clear surface: N/A
Antiglare surface (curved or flat): 95 ± 15 gloss units or 65 ± 15 gloss units
per ASTM D2457 using a 60-degree gloss meter
Refer to touchscreen drawing for specifications.
---
This specification applies to all standard IntelliTouch touchscreens. Due to the subjective nature of cosmetic inspections, cosmetic inspection techniques are only applicable for incoming inspections of new touchscreen products. Cosmetic inspection techniques may not be applicable for product that has been excessively handled, integrated into final assemblies, has remained in the customer's inventory for more than 90 days, or has been exposed to uncontrolled environmental conditions resulting in condensation on the surface of the touchscreen. Surface defects that can be removed from the surface of an IntelliTouch touchscreen with a common, nonabrasive cleaner pass inspection. Cosmetic defects on IntelliTouch touchscreens do not affect the operational specifications of the IntelliTouch touchscreen product
Identifying and classifying a cosmetic defect is inherently a subjective process. Furthermore, no piece of glass is 100% free of cosmetic defects. Even a pristine piece of glass to the naked eye will have surface irregularities upon magnification. The surface quality criteria used to judge the acceptability of an IntelliTouch touchscreen is consistent with that of major LCD panel and display manufacturers.
Inspection Method

Inspection will be accomplished by looking through the touchscreen at the inspection light. The inspection light will consist of U.S. standard cool white fluorescent, F2, lamps which are mounted 3 to 4 inches behind an acrylic diffuser, producing light energy of approximately 375 Lamberts. The outer surface of the inspection light will be covered with equally spaced horizontal black stripes, approximately 2 inches wide, and covering roughly 50% of the light's outer surface. The touchscreen is held 20 cm from the face of the inspection light. Position and move touchscreen per Figure 1 during the inspection period. Inspection time typically does not exceed 15 seconds and never exceeds 30 seconds in duration. Inspection will be performed using the un-aided eye, excluding prescription eyeglasses or contact lens. Measurement of defect size, but not identification of defects present, may be aided by magnification.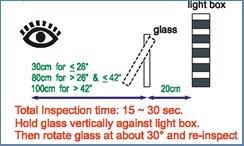 Figure 1: Diagram of cosmetic inspection method used. Touchscreen is held vertically against the light box and inspection occurs directly in front of the touchscreen.
Passable Criteria

The combination of lighting conditions, inspection viewing angle, background, etc. may reveal additional defects that are inherent with the material and coatings. Any defect that fades in the presence of light is acceptable and does not affect the functionality of the touchscreen
For specific questions on cosmetic specifications of IntelliTouch screens, please contact Elo Touchsystems for more information. Additional information is available upon request.
---
UL Safety Certifications
IntelliTouch touchscreens are UL and cUL Recognized Components (File E162681) and TÜV Rheinland (File 09572143).
Fire Retardation
Meets the requirements of UL 94HB.
CE Compliance
Systems incorporating Elo touchscreens, controllers, and cables have been approved for CE marking. Where appropriate, Elo touchmonitors are marked CE compliant, and are typically CISPR22 Class B.
FCC Compliance
Systems incorporating Elo touchscreens, controllers, and cables have been approved to FCC Class A compliance. Elo touchmonitors typically are FCC Class B verified.
Agency Approval Certificates
Agency approval certificates for all Elo controllers and touchscreens
RoHS Certificate of Compliance (all SecureTouch touchscreens; all IntelliTouch touchscreens except for super flat profile)
RoHS Certificate of Compliance (IntelliTouch super flat profile touchscreens)